Many talented college and international players will make themselves available to the teams and try to impact a franchise the best way they can. The top 10 selections cause the most excitement and have a lot of hype around them. So, without further ado, we assess the most likely order of the top 10 picks of the NBA draft.
Markelle Fultz – Boston Celtics
Aside from the fact that he and Isaiah Thomas have a bond, Markelle will be a perfect fit with the Celtics. Fitting into the mold of the team, Fultz is a willing and capable defender with deadly scoring abilities and elite athleticism. A good and solid frame will allow him to play shooting guard next to Thomas.
Lonzo Ball – Los Angeles Lakers
It's fitting that two of the best franchises in NBA history pick back-to-back at the top of the draft. A talented point guard with a mesmerizing style of play and a weird shooting motion, Lonzo is oozing with potential and is already drawing serious Jason Kidd comparisons. His skills should be able to translate well into the NBA.
Jonathan Isaac – Phoenix Suns
This fluid young man has excellent coordination and a good mix of athleticism and poise. As a versatile defender and a willing scorer just about anywhere on the court, he can really bolster the young Suns' roster. His mobility allows him to play small forward, but he has tremendous size and reach, so he can easily be a power forward, too.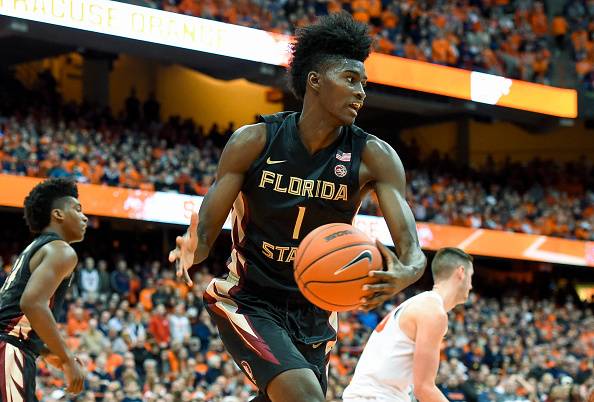 Jayson Tatum – Philadelphia 76ers
Jayson is often described as a mix between Danny Granger and Paul Pierce. He possesses a substantial bag of tricks, just like these two legendary small forwards and is highly oriented to helping his team. Given the fact that he responds well to competition and is a hard worker, the Sixers are in for a big improvement at a position they lack depth at.
Josh Jackson – Orlando Magic
Although there are existing attitude issues and doubts when it comes to the Kansas freshman, those are nothing that can't be solved with good coaching and adaptation. Nevertheless, he is still one of the best two-way players to enter the draft in recent years. That Kawhi-like potential has teams salivating and touting him as a future star.
Dennis Smith – Sacramento Kings
A charismatic young point guard that has all the signs of a future two-way star. It's very rare that a point guard possesses both elite scoring skills and extraordinary court vision, and it looks like Dennis may just have that rarity amongst point guards. The kings could use a star at the head guard position since they've restarted their rebuild.
Robert Williams – Sacramento Kings
Yes, the kings also have the Pelicans' pick (which will become a high one, given the fact how dismal they are) and they are going to further boost their frontcourt. This unselfish young man can play both power forward and center positions and will be an excellent partner to Willie Cauley-Stein.
De'Aaron Fox – New York Knicks
As big as a disappointment the Knicks were this season, Phil Jackson is still a capable executive and will look to add a future-star point guard to repent himself for the Brandon Jennings disaster and the lackluster play of Derrick Rose. The explosive lefty should continue to add energy to the team he plays for and be a good pick and roll addition next to Porzingis.
Malik Monk – Minnesota Timberwolves
A high volume scorer, Malik will be able to play some point guard do to his 6'3'' size and add a different mentality to a somewhat lost Timberwolves team. If Tom Thibodeau invests effort in developing his defensive skills, Monk can truly become a menace on both sides of the ball and be an excellent addition to the Wolves.
Lauri Markkanen – Dallas Mavericks
A seven-foot European who isn't overly athletic and has excellent finesse and a good inside-out game? Sounds kind of familiar. Yes, given the fact Dirk is gone after next season, the Mavs would want to capitalize on the potential of the young Finnish big man and groom him into the next franchise cornerstone.
You May Also Like: